Dental Benefits for your employees or group
The Dental Benefit Program (DBP) is a unique and valuable dental benefit created by local dentists that can be offered to your employees or group members at no cost. Whether you are a large employer looking for an alternative to traditional dental insurance, a small employer without any employee benefits or an association or large group looking to add value for your members…the DBP may be the perfect choice.
Call Today: 801-930-0510
In a matter of days, benefit cards can be created for your organization through a very simple and easy process. The end result is a customized dental benefit card reflecting your group's name with each group member's name on the card.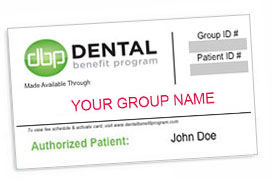 Once the cardholder spends a minute to activate their card, they will have online access to a large group of participating providers and the discounted fee schedule. It's as easy as that!
Because this is not an insurance product, the process of providing your employees and group members with a meaningful dental benefit is easier than you think. Simply call the number below or email our group benefit representative your contact information. Once we have a better understanding of your group, we can quickly provide you with some options to best make the DBP available to your employees and group members.
Options in obtaining and issuing your group's dental benefit cards range from; issuing your group's cards by mail or delivery so that you can distribute the cards yourself to simply directing each employee or group member to the DBP's activation page with an assigned group ID # specific to you.
Call Today: 801-930-0510
Or email us at: dbpdirector@dentalcooperative.com